Beschreibung
Kochen Sie gerne oder möchten Sie es mit Gleichgesinnten lernen?

Wir bieten den Hobbyköchen unter Ihnen und allen die sich für das Kochen begeistern einen Blick in unsere Küche. Es wird natürlich nicht nur zugeschaut, sondern selbst mit zubereitet.

Oder Sie möchten Ihrer Familien-, Firmen- oder Weihnachtsfeier eine besondere und aktive Note verleihen?

Buchen Sie doch ein Kochevent. Gerne auch in englischer Sprache. Die besondere Geschenkidee: Gutschein für einen Kochkurs

So könnte Ihr Kochevent aussehen:
Merkmale
Standort
Bilder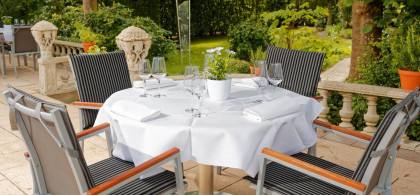 Impressionen
6 Fotos · 12/26/2020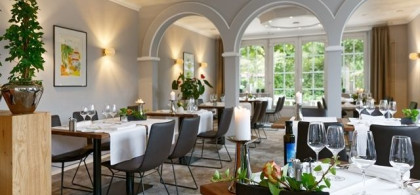 Impressionen
6 Fotos · 12/26/2020
5 Reviews
森
There are not enough superlatives to describe the dining experience at this truly wonderful restaurant. Indeed, I have been coming here regularly, since I first discovered it by chance in 1991. For an 8 year period, we were guests of Maria and Hans-Pieter on a nearly monthly basis, and now, even though I live in Hong Kong, I still try to eat here whenever my wife and I return to Germany. From the minute you arrive until the moment you say your goodbyes, you will be looked after by the fantastic staff who, quietly and unobtrusively ensure that your every need is catered for. I have had meals where it was just my wife and I: other occasions have seen over 60 of us in the restaurant and regardless of the size of the function, the same efficient, quite and polite service is encountered. In an age where manners and courtesy seem to be counting for less and less, this approach is refreshingly wonderful! So far, I haven't mentioned the food so I will now. In the 26 years of eating here, I have never once had a bad course and neither have any of my myriad of dining partners. Each dish, be it fish, meat or vegetarian is cooked and presented to perfection with wonderful and sublime tastes that make you wish the experience would last forever. Hans-Pieter is a true talent and some of his creations are amazing - their presentation alone makes you reticent to tuck in, but the knowledge that the taste will exceed even the look, ensures that is exactly what happens. The fact that I will come half way around the world to eat at this particular restaurant should speak volumes. I will close now by saying that as long as the Roemers are managing a restaurant, I will make every effort to try and visit on my trips back to Europe. Without doubt, this is one of the best restaurants at which I have dined at in the world, and having eaten at some very high end places, Amber at Mandarin Oriental in Hong Kong springs to mind, Roemers Restaurant would be my choice each time.
Quelle: Google
K
Hervorragendes Essen, schönes Restaurant und sehr freundliche Bedienung mit guter Weinempfehlung
Quelle: Google
E
Great food, great service! Very classy, ​​correspondingly expensive, does justice to its price!
Quelle: Google
R
Just great!! Small suggestion: change the card a bit so that we have something new :) everything else great
Quelle: Google
M
It was our second time here for the New Year's Eve menu, but a little disappointed as courses have been repeated over the previous year. Overall, the presentation and service were not quite as good as usual. We also didn't like the additional accommodation in the actual social room. Overall, but definitely worth a visit outside of special occasions if you like a familiar and cultivated atmosphere.
Quelle: Google
Unverbindliches

Angebot anfordern

Alle Anfragen sind kostenfrei und komplett unverbindlich
Antwortzeit des Anbieters
Schnell (ca. 12 Stunden)