About

"Der schönste Tag in Ihrem Leben" mit der perfekten Kulisse umgeben von Bergen, Gletscher & See

Feiern Sie Ihre Traumhochzeit direkt am See mit Ihrer großen Liebe. Angefangen von dem perfekten Ambiente direkt am See, mit Ausblick auf die herrliche Bergwelt bis hin zur kulinarischen Gaumenfreude bei der Hochzeitsfeier nach dem JA-Wort. Ein unvergessliches VERGNÜGEN im "Crossover-Hotel" am Zeller See.
Merkmale
See
Berge
See
Ausblick
DJ
Draußen
Eleganz
Freie Trauung
Modern
Musik
Restaurant
Seeblick
Terrasse
stilvoll
Übernachtung
Standort
Bilder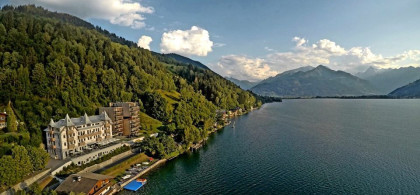 Eindrücke
15 Fotos · 6/22/2020
Preise
Menü Restaurant Seensucht

Honeymoon – Special 3 Übernachtungen im Premium Doppelzimmer mit Seeblick Inkl. 3 Frühstück Menage a trois 1 x 4 gängiges Dinner inkl. Weinbegleitung 1 Flasche Champagner bei Anreise Nutzung unseres Privatstrandes VUE (etc. lt. anderen Pauschalen auf unserer Website) AB Euro 460,00 pro Person
4 Reviews
M
We stayed as a couple on a 3 week long road trip, off season (October) for a few nights. This hotel was our "splurge" of the trip, opting for the larger, lake view room because I didn't want to miss out on that gorgeous lake. It was the right call all around - the Seehotel Bellevue might be one of the best hotels I've stayed in, because it combines style and luxury with wellness and a countryside hospitality without being superficial with either. The rooms are spacious and well designed with a modern look that reflects the hotel's long history rather than hide it. The views from our balcony to the lake were so stunning it was hard to leave for the day. Breakfast was unlike any other hotel breakfast I've experienced - focused on premium, healthy and fresh ingredients and made to order - this mode wouldn't work so well for a business trip but for a relaxing holiday it's ideal and for the first time in years of travel I was actually looking forwards to having breakfast. The staff and owners are kind, polite and professional, helping us with every question and request - from tips for our planned itinerary and receiving some mail for us to holding our luggage for an entire day past checkout so we could zap around the Grossglockner in our car without the extra weight. They even let us play with their puppy which would by itself earn this hotel an extra star. The downsides are so minor I feel silly even listing them but they would be: the hotel has 2 parking lots, one street level and easy to use, one closer to the lobby but requiring a tricky climb up a steep driveway which, with our large Audi A6 wagon and in the dark was a bit hairy (but we did see a full size truck manage it, so it's not impossible for any passenger car). The location is on the other side of the lake, meaning fewer restaurants and bars can be reached on foot compared to staying in Zell am See itself - if you travel by car however this location is far superior thanks to how quiet it is and the superb views. To conclude, I hope I have the privilege of staying here again.
Quelle: Google
M
The most gorgeous view of Zell am See. We have booked the suit with private sauna and HB. All was top class! We appreciate hotel and the workers for the great service and even small present during the dinner time. We deeply appreciated it.
Quelle: Google
H
Beautiful view and lovely staff, its a bit expensive but because its new and clean 😍
Quelle: Google
D
This hotel/residence was the best hotel where i stayed in Austria and even in Alpine regions of Europe. It is kind of room in the area where you have outstanding panorama onto the Zell and lake. There are so clean and in good condition of rooms with lots of facilities and kitchen gears as well. I just stayed there in summerseason and i am prette sure it should be so good in winter time as well. There are lots of ski resorts around including zell am see of course, Kaprun, Mayerhofen etc. If i would be again in the same area i know i will be staying in this residence again.
Quelle: Google
Unverbindliches

Angebot anfordern

Alle Anfragen sind kostenfrei und komplett unverbindlich
Antwortzeit des Anbieters
Schnell (ca. 12 Stunden)