About
Entspannen Sie im Grand Tirolia Hotel Kitzbühel, Curio Collection by Hilton. Unser einladendes Golf- und Sparesort liegt inmitten der Alpen und vereint traditionellen Stil mit modernen Akzenten.
Das Hotel befindet sich am preisgekrönten Golfplatz Eichenheim und wartet mit einem unvergleichlichen Bergblick auf. Im Winter sind die Skigebiete in Kitzbühel binnen weniger Minuten über unseren kostenfreien Shuttleservice erreichbar. Im Sommer kann eine Wanderung zu den Almen direkt vor der Tür beginnen.
Merkmale
Bilder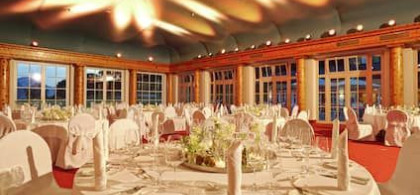 Impressionen
5 Fotos · 12/29/2020
5 Reviews
T
We stayed for only one night while driving through Austria, but wish we had booked longer. Friendly staff and room upgrade with Hilton Gold. The room was massive and very stylish. Bonuses: there are MANY (5 or 6?) different types of saunas and steam rooms which are included!! I have worked in luxury chain hotels with spas and we charged £35 for day access to our spa rooms, so I thought this was great value. Also, the breakfast was the best I have ever seen in a hotel. Cooked to order options, or self-serve buffet complete with a mimosas and Bloody Mary station (also included for gold members.) €10 for parking which is weird for being in the middle of nowhere but seems to be commonplace throughout Austria.
Quelle: Google
V
Great and luxury course. Beatiful views/ panorama. In terms of game rather challenging :-)
Quelle: Google
S
What an incredible hotel! We've stayed at a few Curio brand hotels and they are all amazing — but the staff at this one takes it up a notch. Everyone was extremely friendly and went above and beyond. They even had some great restaurant recommendations, which was great because options are limited during the off season. Breakfast was fantastic every morning and although both pools were unexpectedly closed during our stay, we enjoyed the saunas and other spa amenities. The king mattresses are heavenly — we slept amazing every night. Would definitely return!
Quelle: Google
A
There aren't enough nice things to say about this place or the incredible staff. Curio collection properties have always been wonderful and we always plan our vacations around them, but this one takes the top by a long shot. We had a king room with the alpine view. The room was beautiful and always smelled nice. The rain showers are awesome. The bed, though, was the most comfortable thing I have ever experienced. I have never slept so good in my life. We had breakfast every morning and loved it. It was such a great way to start the day. The breakfast is a must addon to your stay. We only ate at the restaurant once, but the food was delicious. The staff was always wonderful and very helpful. They gave us several great recommendations for food and nearby activities. The spa area and the saunas at the hotel were amazing. We always ended our day by bouncing around the different saunas. We loved it. We can't wait to come back! We loved this place!
Quelle: Google
A
No matter the time, the Night Manager Sinisa took care of us to the hilt. He recommended local specialty St. Johannes sausages and also provided small slices of bread and leafy salads. The breakfast was absolutely far out. We were well taken care of by server Mr. Marijan. The front desk checkout in the morning was Mr. Nathan and Ms. Katharina and Mr. James. They were over the top and went out of their way to make the whole experience a total home run. 30-minute massage experiences at the spa on the lower level by the Greek Masseur Mr. George were experiences of royalty. The massages were excellent. A most fabulous experience! Highly highly recommended. The property. The people were all totally first class. Excellent hospitality. The food. Just say yes. Go here! Yes.
Quelle: Google
Verfügbare Tage
Standort
Unverbindliches

Angebot anfordern

Alle Anfragen sind kostenfrei und komplett unverbindlich
Antwortzeit des Anbieters
Schnell (ca. 12 Stunden)